What's Included
A free site (ads included, without ads- $25.00/month, Non-CU*Answers clients: $25/month with ads, $50/without
A rolling board calendar
A means to share documents digitally*
A site that is easy to manage and update
Privacy by requiring a login to view content
An administrator account for your accounts and updates
Board member accounts for your board members
A mobile friendly theme- use whatever device you want!
What Ads Show?
If you wish to opt out of removing banners ads, the top section of your site will change: Instead of having your credit union logo, featured banners advertising CU*Answers services will rotate through. The images below give you a visual of the difference.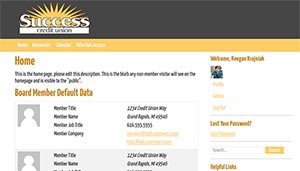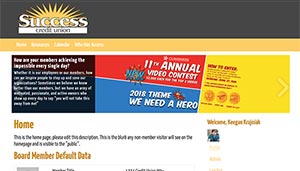 Process
To begin, as well as needing to agree to the terms of service, you will also need to provide us with the name and email of the person you wish to designate as the administrator. The administrator is responsible for adding the Board members as users and managing site content.
Next, a developer on the Web Services team will assemble the Board Site, which can take 2-4 business days, depending on availability at the time the order has been placed. Once completed, we will add the designated administrator, and essentially hand off the board site to them.
Download the Getting Started Guide for Board Site Administrators
Download the Board Sites for Board Members Guide
*Note: Although the site requires users to login before displaying the content, no private data is permitted to be placed or distributed on the Board Site. The website is also not intended to be used for long term storage of documents – original copies of your documents should be kept elsewhere. Board Sites are a self-service product. CU*Answers will not provide any training for new or existing sites outside of the provided board site guides.