Overview
When you order this service, you select your colors from the picking tool, or enter their numbers in directly. The imaging solutions team will then take those numbers and create a mockup for you to approve. If you're good with the mockup, they go on to make the change to production and your members start enjoying your new color accents that match your branding scheme. Typically, it takes a week or two to get you a mockup and a week to make the change providing you respond in a timely manner.
Choosing Your Colors
The main headings utilize your selected primary color, and the Date and Member Number backgrounds are based off your selected secondary color. See below.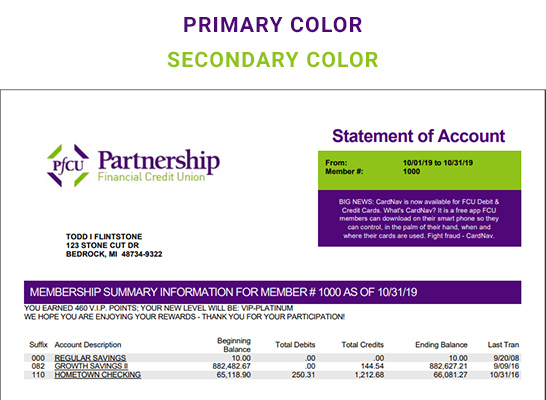 Terms and Conditions
Note colors online and monitors aren't always consistent with printed and other forms of media.
Only a primary and secondary color can be selected. Font type, size and other attributes are not able to be customized.
The credit union should consider and accepts responsibility for ADA compliance and should consider white fonts vs. black fonts and how they contrast with the credit union's chosen colors.
Any changes after acceptance will incur a change fee of $50 minimum.
Credit Unions hosting their own eStatements on their imaging server must be release managed by Imaging Solutions to utilize this service.
eStatement Accent Colors Brochure