Overview
Asterisk Intelligence Data Warehouse is a storage unit where you can combine and manage relational data you need to analyze but otherwise have no space to collect or retain. You have full control of retention and management of the space via the free warehouse management application, AI*Engaged. No additional hardware or software to buy.
Built and designed by CU*Answers for users of the Asterisk Intelligence Data Warehouse, AI*Engaged is a specialized suite of tools an analyst will use to execute and share analysis of warehoused data.
Data Warehouse is the Storage Unit within AI*Engaged – A dedicated place for storing specialty analysis data, general files for analysis or dashboards, and long-term archives
Dashboards are the Analyst's Toolkit within AI*Engaged – An exciting and powerful opportunity for built-in analysis, assessment, and action with warehoused data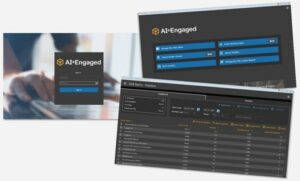 Once You Order
After submitting the order, you will be contacted by the Asterisk Intelligence team with resources, a few further steps to complete, and an estimated time when your Data Warehouse will become available (typically 1-2 weeks). We'll schedule a "Getting Started" kick-off call for your initial training on the toolset and from that point schedule in any additional training you may wish. We support every type of Data Warehouse user on tools and strategy from the earliest beginner to the most advanced.
I'm Ready to Go! What Will My Storage Unit Look Like?
Are you a data collector that archives beyond minimums? Do you focus on data that can give insight into members' engagement with you when they aren't doing a transaction? Are you a full picture analyst who wants the pulse on each area of your credit union with as much data as you can consume?
Compare storage approaches with Sample Storage Unit scenarios!
I'm Still Not Sure What I'd Put In It. What Are the Options or Strategies?
With a data warehouse, you can store data from elsewhere in CU*BASE, as well as data from outside of CU*BASE that you wish to analyze inside the system. The three primary strategies you can pursue with this data warehouse include:
1. Optics Data – Specialty data brand monitoring member interaction events in Online Banking, Phone Operator, and from Card Network activity.
Use this data to make decisions about expanding or sunsetting digital and self services, implementing fee programs, study member profiles by demographics and activity patterns, and more.
2. Long-Term Archives – Any CU*BASE or 3rd party data you wish to ensure is available indefinitely, or on your own retention schedule.
Use this capacity to ensure data you prioritize is available when you need it, for as long as you want it.
3. General Custom Storage – Any relational data from various platforms that you wish to keep in your warehouse. Examples include 3rd party email systems, external LOS systems, Excel files you receive or manage, and more.
Use this capacity to implement creative data mining, or to close gaps in data analysis opportunities. Bring in credit or decisioning data that is ripe for analysis and outreach, but only in your LOS today. Bring in lists of members from other systems and connect it to the full breadth of core data you have about those members' products, services, and transactions with you.
The options within each strategy include:
Online Banking Optics – Full Data, Automated
Phone Support Optics – Full Data, Automated
Card Activity Optics – Full Data, Automated
Tracker Data Archives – Monthly Archival, Automated
General File Archives – Managed by the Credit Union, per file
3rd Party File Uploads – Managed by the Credit Union, per file
System Files from Data Projects – Managed by the Credit Union, per file
Read more about the Data Warehouse storage unit on our webpage – Tell Me More About Data Warehouses! Read more about the AI*Engaged application for managing and analyzing your warehoused data in our Data Warehousing with AI*Engaged Overview!
Or, check out more detailed technical documentation and support videos in our Data Warehouse Resources library.
Contact the Asterisk Intelligence team at ai@cuanswers.com or 800-327-3478 ext 870 with any questions or concerns before placing your order.
Other products you may like
SnapShot Data Library – Query Access